Spacious & Comfortable
luxurious glamping
The four safari tents are called Blackberry, Poppy, Daisy and Primrose.
Each is named after wildflowers found at the farm. At five metres wide by nine metres long, the safari tents are very spacious, with a generous veranda at the front. Each safari tent is positioned about 30 metres from its nearest neighbour, dotted around the edge of a large, gently sloping seven-acre meadow.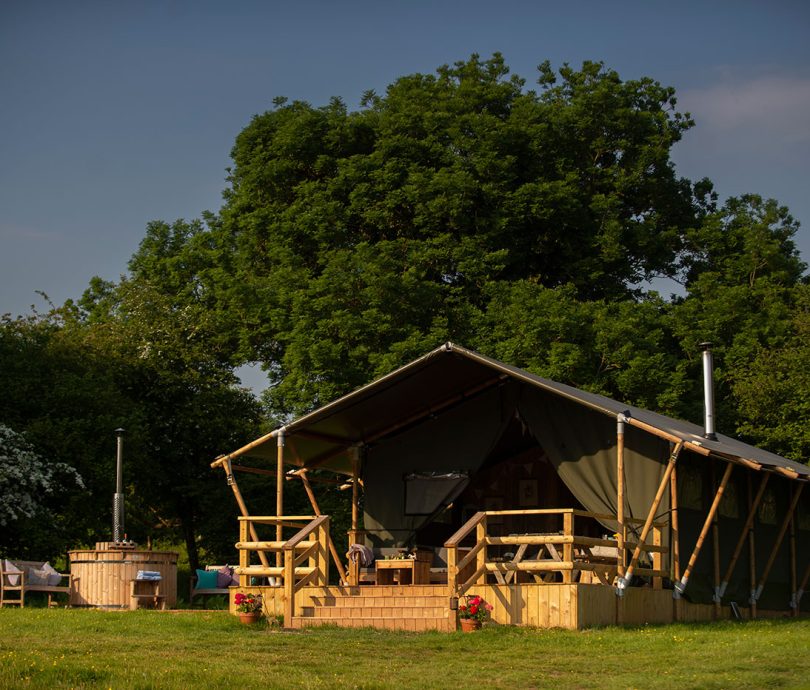 The Perfect Spot
Next to the glamping meadow, through a small gate, is a beautiful oak woodland that is all yours to explore.
The safari tents enjoy plenty of sunshine all day long. There is nothing quite like a glass of wine on your veranda as the sun sets over the trees.
Stays in safari tents are all the same price and each tent has the same facilities, with the exception of Blackberry which has a wooden double cabin bed instead of a sofa bed.
You can find more information on our safari tents below…
Fully Equipped
Inside Your Safari Tent
The large living area with kitchen includes:
Dining table and six chairs.
Leather sofa with cushions.
Double sofa bed (from The Futon Company) and storage box containing duvet, pillows and all bedlinen for the sofa bed.
Cosy rugs, books and board games.
A mix of solar-powered and rechargeable lighting.
Fresh flowers
Welcome pack with treats to enjoy.
Woodburning stove with starter pack of logs, kindling, eco firelighters, matches. The woodburning stove is surrounded by a sturdy fireguard for safety and comes with full instructions for use. There are more logs and kindling for sale here at the farm.
The kitchen area has:

A four-ring gas hob with stovetop kettle
Sink
Large cool box – help yourself to freezer blocks from the freezer in our facilities barn. NB each glamping tent also has its own allocated fridge in the facilities barn.
Full sets of crockery, cutlery, glassware, teapot, cafetiere and mugs for 6 people.
Full set of cooking kit including pans, frying pans, chopping boards, utensils.
Tea and coffee kit including tea, coffee, sugar, hot chocolate and milk sachets.
Washing up liquid, surface spray, cloths, washing up brush, tea towels, sponges and cloths.
Four recycling bins (we recycle paper, card, plastics, metal and food waste).
Each tent has its own fridge, situated nearby in our facilities barn. The fridges are undercounter larder fridges, one per glamping tent. There is also a small, shared freezer in the facilities barn, filled with freezer blocks, for use in the cool boxes.
We pride ourselves on the comfort of our beds, which all have John Lewis mattresses.
You will find:
One double bedroom (double bed fully made up) with blackout curtains.
One twin bedroom (2 single beds fully made up) with blackout curtains.
Towels included (2 bath towels per guest).
In Blackberry safari tent there is also a double cabin bed with wooden frame and doors, accessed by a short ladder. This is much loved by children aged about five and over and also large enough for two adults.
The bathroom has a hot shower, wash basin, hand towels and toiletries and is situated at the rear of the safari tent.
Each glamping tent has its own compost loo, with handbasin, situated at the rear of the tent. These are very easy to use and cleverly designed to stay fresh and pleasant. Instead of flushing, you pour a scoop of pine woodshavings down the loo – in all other regards they are just like normal toilets.
To the front of each safari tent is a generous veranda which enjoys the view over the fields and trees. The outdoor furniture here includes a picnic table for outdoor meals, benches and chairs, to make it easy and enjoyable to spend time outside in the fresh air. The veranda is a couple of steps up from ground level.
There is a woodfired hot tub beside each safari tent, with room for four people. This comes with full instructions for use. Relax and unwind in the fresh air. The hot tub is especially lovely at night-time, on clear nights there are wonderful stars to be seen.
Each safari tent has a campfire area with seating, for memorable evenings toasting marshmallows. We provide a starter pack of firewood, firelighters and matches and there is more wood to buy on the farm.
We provide a charcoal-fired barbecue, table and tools for al fresco cookery. A starter pack of charcoal is provided.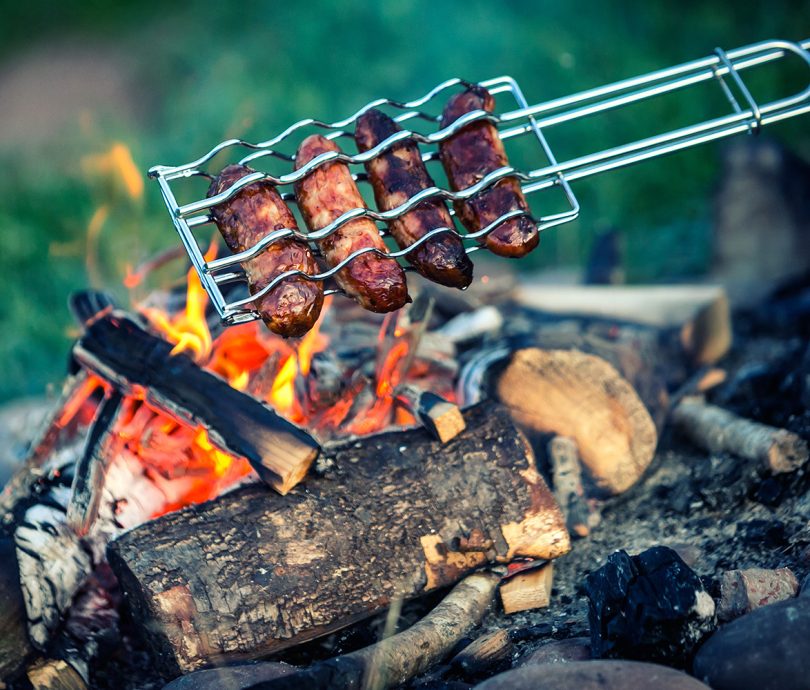 The Facilities Barn
Next to our carpark and a short walk from the glamping tents is our facilities barn.
Here you will find:
Fridges: each glamping tent has its own fridge (undercounter larder size)
Freezer: There is one small, shared freezer which is filled with freezer blocks for the cool boxes which are to be found in each glamping tent kitchen
Charging points: You can charge phones etc here. This is also the place to recharge the rechargeable lanterns which are provided in each glamping tent
Washing machine (free of charge)
Tumble dryer (free of charge)