Characterful and romantic
GLAMPING TENTS
Cuckoo Down Farm started with yurts back in 2008 and we still love these characterful and romantic glamping tents.
For 2022 we have just the one on offer, called Sweet Pea Yurt. Sweet Pea Yurt has a special location tucked away in a small, fenced paddock behind some trees, making it perfect for people in search of seclusion. It's also great for people with dogs and small children as it is securely fenced. Sweet Pea Yurt is 6 metres in diameter and comes with its own kitchen, shower, loo and hot tub.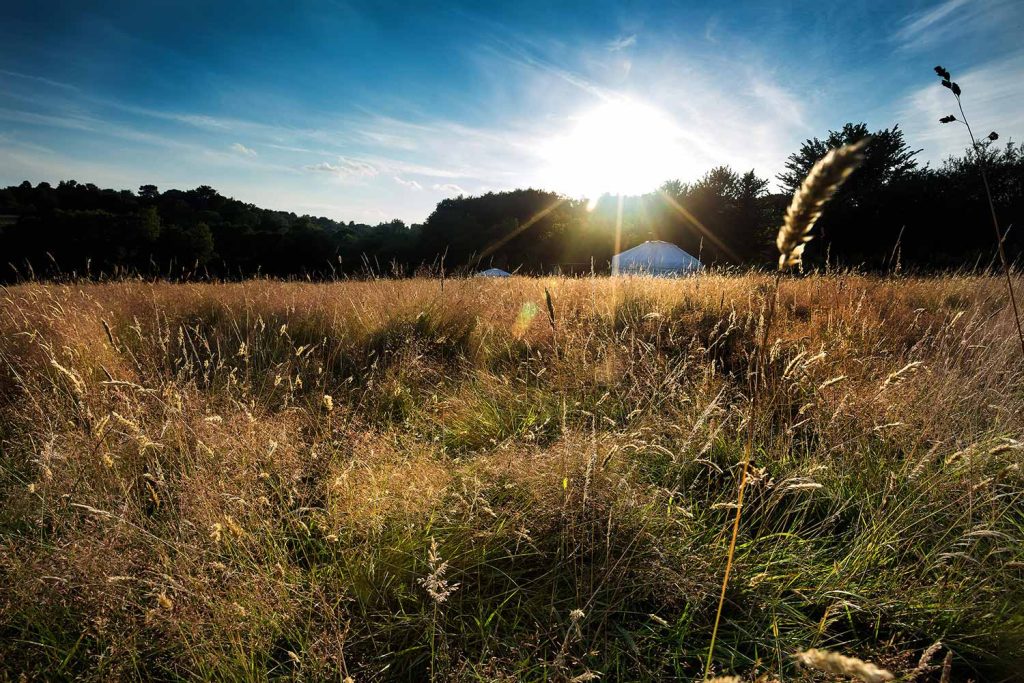 IN the Sweet Pea Yurt
YOU WILL FIND…
Within Sweet Pea yurt you will find a comfy double bed, fully made up with fresh bedlinen and towels. There are also two sofa beds from The Futon Company, each with a storage hamper nearby containing pillows, duvet and bedlinen should you want to use the sofa beds. There are also cosy rugs, cushions, storage chests of drawers and a dresser for your belongings as well as books and games. A mixture of solar powered and rechargeable lighting is provided. Fresh flowers, grown locally, are arranged by our resident florist Jen Hart. Towels are provided (two per guest)
For warmth there is a woodburning stove with starter pack of logs, kindling, eco firelighters, matches. The woodburning stove is surrounded by a sturdy fireguard for safety and comes with full instructions for use. There are more logs and kindling for sale here at the farm. You can find more information about the woodburning stove here.

Sweet Pea's kitchen is a three-sided camp kitchen with roof, situated a few feet from the entrance to the yurt. It contains a wide counter with:
Two-ring gas hob with stovetop kettle, there is a standpipe for fresh drinking water.
Cool box. Help yourself to freezer blocks from the freezer in our facilities barn. NB Dandelion Yurt also has its own allocated fridge in the facilities barn.
Washing up bowl.
Full sets of crockery, cutlery, glassware, teapot, cafetiere and mugs for 6 people.
Full set of cooking kit including pans, frying pans, chopping boards, utensils.
Tea and coffee facilities including tea, coffee, sugar, hot chocolate and milk sachets.
Washing up liquid, surface spray, cloths, washing up brush, tea towels, sponges and cloths.
Four recycling bins (we recycle paper, card, plastics, metal and food waste).
There is a large picnic table with umbrella for eating outside.
There is also a charcoal-fired barbecue and tools for al fresco cookery, a starter pack of charcoal is provided (£10 per night to hire).
Each tent has its own allocated fridge, situated nearby in our facilities barn. The fridges are undercounter larder fridges. There is also a small shared freezer with freezer blocks, for use in the cool boxes.
Sweet Pea yurt has a shower room nearby with hot shower and washbasin. Next door is the compost loo, which is easy to use and cleverly designed to stay fresh and pleasant. Instead of flushing, you pour a scoop of pine wood shavings down the loo – in all other regards it is just like a normal toilet.
You can hire a charcoal-fired barbecue, table and tools for al fresco cookery. A starter pack of charcoal is provided. £10 per night.
Sweet Pea Yurt has a campfire area with seating, for fun evenings toasting marshmallows.
There is a woodfired hot tub beside Sweet Pea Yurt, with room for four people. This comes with full instructions for use. Relax and unwind in the fresh air, especially lovely at night-time when there are wonderful stars to be seen.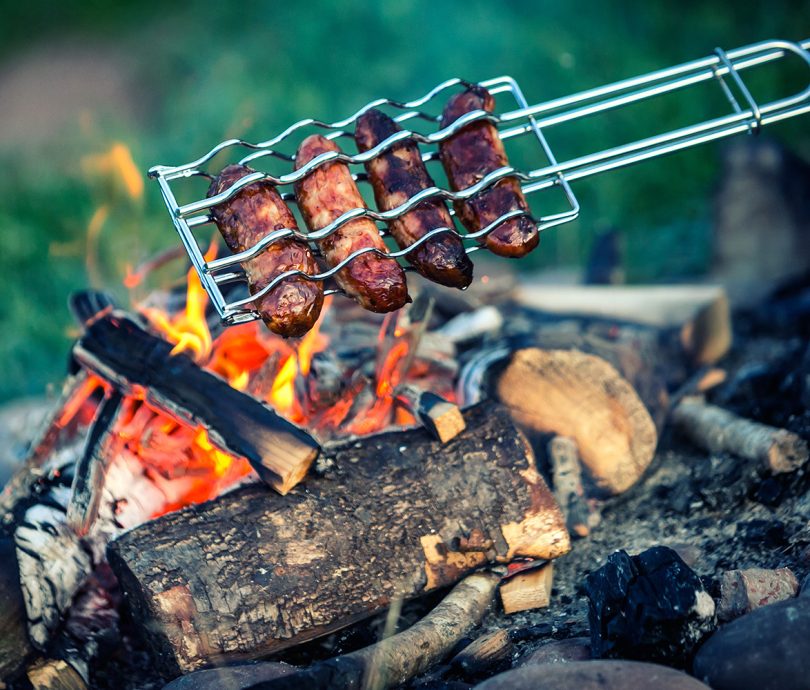 The Facilities Barn
Next to our carpark and a short walk from the glamping tents is our facilities barn. Here you will find:
Fridges: each glamping tent has its own fridge (undercounter larder size)
Freezer: There is one small, shared freezer which is filled with freezer blocks for the cool boxes which are to be found in each glamping tent kitchen
Charging points: You can charge phones etc here. This is also the place to recharge the rechargeable lanterns which are provided in each glamping tent
Washing machine (free of charge)
Tumble dryer (free of charge)
Hair styling station with mirror, hairdryer and straighteners